Prosodie, 2013
performance filmée, 2 vidéo-projections synchronisées
/ filmed performance, 2 synchronised video projections
12'
2 écrans en bois, HPN acier, haut-parleurs
/ 2 painted wood screens, HPN steel, speakers
229 x 203,2 x 90 cm (x2)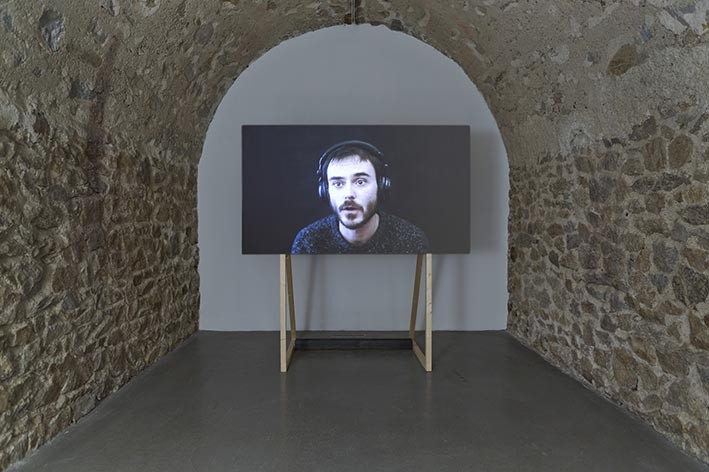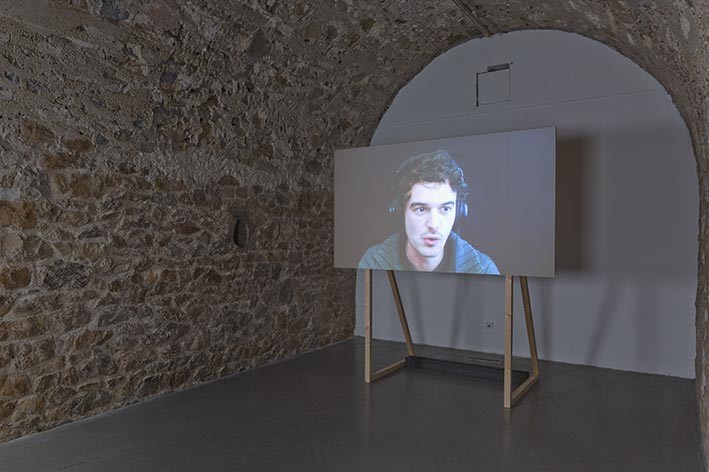 vues de l'exposition Carte Blanche à Richard Fauguet, FRAC Limousin, 2016
_
FR
Sur deux écrans, deux personnes, écouteurs sur les oreilles, tentent de reproduire avec la bouche les sons qu'ils sont les seuls à entendre, ceux des douze premières minutes de Il était une fois dans l'Ouest de Sergio Leone. Cette introduction du western est célèbre pour la complexité de sa texture sonore. Une véritable symphonie de bruits dans laquelle se mêlent le grincement d'une éolienne, le bourdonnement d'une mouche, une fuite d'eau qui atterrit sur un chapeau de feutre, un télégraphe déglingué, des craquements de doigts et finalement, l'arrivée d'une locomotive. La complexité des sons et leur retranscription en direct placent les interprètes dans un état de concentration maximale. Bégaiements et hésitations révèlent leur difficulté à retranscrire ce qu'ils entendent et s'apparentent à un babil, cette imitation des contours prosodiques du langage par l'enfant. La prosodie désigne l'inflexion, la tonalité, l'accent, la modulation ou le rythme de nos paroles selon les émotions que nous ressentons ou que nous souhaitons transmettre.
notice : Paul Bernard, Camille Llobet, Monographie, éditions Adera, 2013
_
EN
On two screens two people wearing headphones try to reproduce orally sounds they alone can hear: those of the first twelve minutes of Sergio Leone's Once Upon a Time in the West, a passage famed for the intricacy of its sound texture. A veritable symphony of noise that merges the creaking of a windmill, the buzzing of a fly, water dripping onto a felt hat, a ramshackle telegraph machine, fingers cracking and, finally, the arrival of a train. The complexity of the sounds and their live reproduction force the participants into a state of maximum concentration: stutterings and hesitations betray the difficulty of transcribing what they are hearing, the outcome being a kind of babble, like a baby's approximate imitation of the prosodic contours of language — the inflection, tone, stress, modulation and rhythm of our words ads dictated by the emotions we feel or are attempting to convey.
notice : Paul Bernard, Camille Llobet, Monograph, éditions Adera, 2013
_
avec / with Théo Jespierre, Florian Tillard
_
Collection FRAC Limousin
_

Prosodie, 2013, archive vidéo