Téléscripteur, 2006
performance filmée, 3 vidéos DV PAL 4/3 synchronisées
/ filmed performance, HD video, 3 DV PAL 4/3 video synchronised
123'
écrans LCD 4/3, barres métalliques, dimensions variables
/ 4/3 LCD screens, metal bars, variable dimensions

Téléscripteur #1, extrait entre 01:09:30 et 01:11:30
_
FR
Pour Téléscripteur, Camille Llobet a demandé à trois personnes de décrire oralement, en direct et sans pause, la totalité d'un film d'action particulièrement dense, La Chute du Faucon noir de Ridley Scott. Les enregistrements filmés de ces expériences sont diffusés simultanément sur trois écrans. On y voit chaque visage plongé dans la description de ce qui se joue devant lui. Par la concentration requise et la fatigue éprouvée par sa longueur – le film dure un peu plus de deux heures – le récit se fait performance. L'épuisement et la difficulté du direct font dérailler la narration dans l'absurde. La parole hésite, trébuche, balbutie dans sa tentative de coller au plus près à la vitesse du défilement. Amalgames, lapsus, ellipses révèlent ainsi les différentes sélections opérées dans la multitude d'informations. La mise en comparaison fait affleurer des différentes stratégies de cette prise de note orale, cette « sténoglossie ». Qu'ils privilégient le registre lapidaire d'une vision synthétique ou qu'ils viennent se perdre dans les méandres de l'exhaustivité, on perçoit la singularité des regards portés et leur manière de rendre compte, d'être témoin.
Paul Bernard, Camille Llobet, Monographie, éditions Adera, 2013
_
EN
For Téléscripteur, Camille Llobet asked three people to recount, as they watched and without stopping, the entire plot of an especially complex action movie: Ridley Scott's Black Hawk Down. In the filmed recordings of these experiments, shown on three screens simultaneously, we see each face immersed in describing what is taking place in front of it. The concentration required and the fatigue induced by the length of the film — slightly over two hours — turn this narrative into a performance, with the combination of exhaustion and stress driving the verbal accounts to the tipping-point of absurdity. The protagonists hesitate, stumble and stammer as they strive to keep up with the speed of the plot. Mixups, slips of the tongue and omissions betray the different choices effected in the face of a flood of information. The comparative presentation brings out the different strategies resorted to in this oral note-taking, this spoken shorthand. Whether the emphasis of these individual visions is on the starkness of summary or the endless twists and turns of exhaustiveness, we perceive their singularity in their ways of relating, of witnessing.
notice : Paul Bernard, Camille Llobet, Monograph, éditions Adera, 2013

Téléscripteur #2, extrait entre 01:09:30 et 01:11:30

Téléscripteur #3, extrait entre 01:09:30 et 01:11:30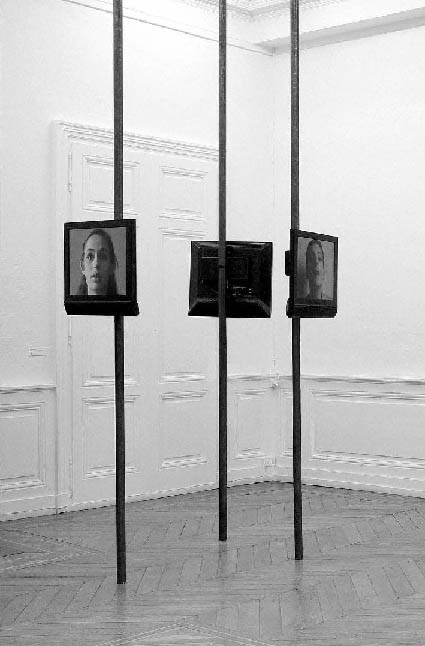 vue de l'exposition Après coup, Galeries Nomades IAC Villeurbanne, L'attrape couleur, Lyon, 2010
photo : Thomas Morel